Yagami Hikari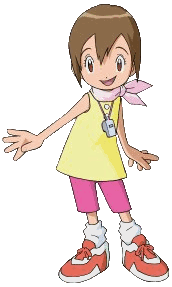 Profile (01)

Name: Hikari "Kari" Kamiya (Yagami in Jap)
Meaning: Hikari means Light and Yagami means eight gods
Grade: 2
Age: 8
School: Odaiba Elementary
Japanese Voice Actor: Araki Kae
American Voice Actor: Lara Jill Miller
Digimon: Yukimipotamon, Nyaromon, Salamon, Gatomon, Angewomon
Crest: Light
Family: mom, dad, older brother(Taichi), cat
First Appearence: Home Away From Home

Kari was the mysterious eighth child, which was discovered when Gennai told them about a new child. Myotismon was also in search with her Digimon, Gatomon. When they found her, Tai had his doubts but Wizardmon told him the truth. Then a intense battle with VemonMyotismon started and he lost.




Profile (02)

Name: Hikari "Kari" Kamiya (Yagami in Jap)
Meaning: Hikari means Light and Yagami means eight gods
Grade: 7
Age: 12 or 13
School: Odaiba Elementary
Japanese Voice Actor: Araki Kae
American Voice Actor: Lara Jill Miller
Digimon: Salamon, Gatomon, Angewomon, Nefertimon, Silphymon
DigiEgg: Light
Hobbies: Photography
First Appearence: Enter Flamedramon

Kari and TK are now the main focus of Digimon 02. Kari is still her kind and gentil self but she is kind of different. Davis and TK both have huge crushes on her but TK is the winner of her heart. She now has a hobby which is photography, and when ever she is in the DigiWorld, she takes pictures with her digital camera.




<--